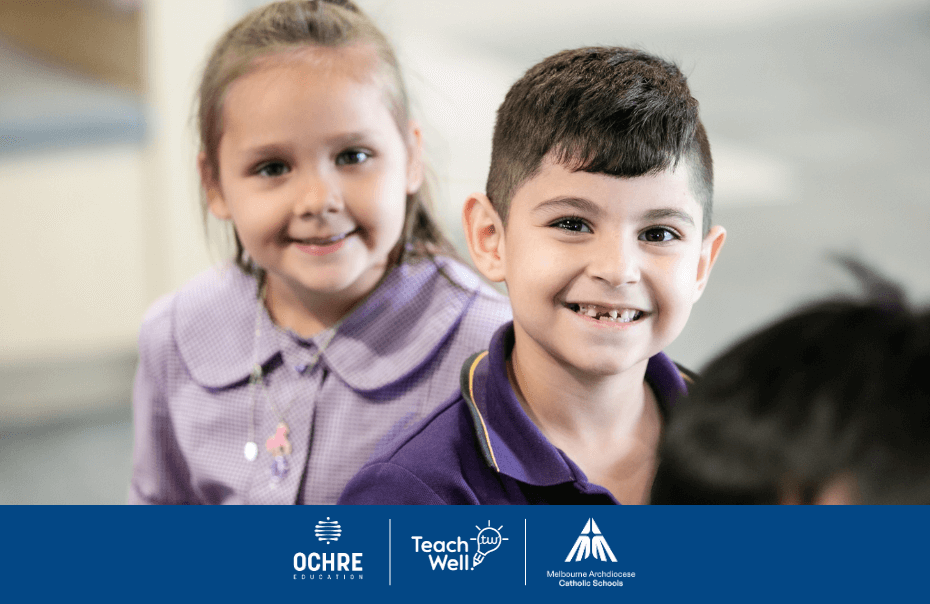 Teach Well to deliver professional Early Childhood Education learning support to Melbourne Archdiocese Catholic Schools  
We are delighted to announce that we are partnering with Melbourne Archdiocese Catholic Schools (MACS) and Ochre Education to support teachers in delivering high-quality mathematics resources for F-2 students across Victoria.
Working from a robust research and evidence base, Teach Well is collaborating with MACS schools as they implement Ochre's new F-2 Mathematics lesson resources and Daily Reviews. Feedback from MACS teachers was that workloads were high, and teachers wanted more high-quality mathematics resources to create more sustainable workloads, whilst promoting equity and excellence across their schools. The Teaching for Impact in Mathematics (TIM) Series, delivered by Teach Well, is a tailored, professional learning series that will support teachers and leaders to build more high-impact instruction into their classrooms and schools, to accelerate learning for all students in mathematics.
The TIM Series workshop day will cover some key aspects of student learning, including:
An introduction to the Science of Learning
How to achieve a full participation classroom
How to effectively check for understanding in the classroom
The key componentry of high-impact lessons
How to best utilise the principles of spaced practice and Daily Reviews
The TIM Series will include an in-person workshop in Melbourne for teachers (and an additional workshop for school and mathematics leaders), as well as a self-reflection and video feedback cycle, and structured opportunities to collect and reflect on student outcomes data along the way. A big congratulations to the MACS team on the roll out of the innovative approach to the TIM Series. We look forward to working alongside MACS schools in 2024 for the benefit of all teachers, leaders, and students.